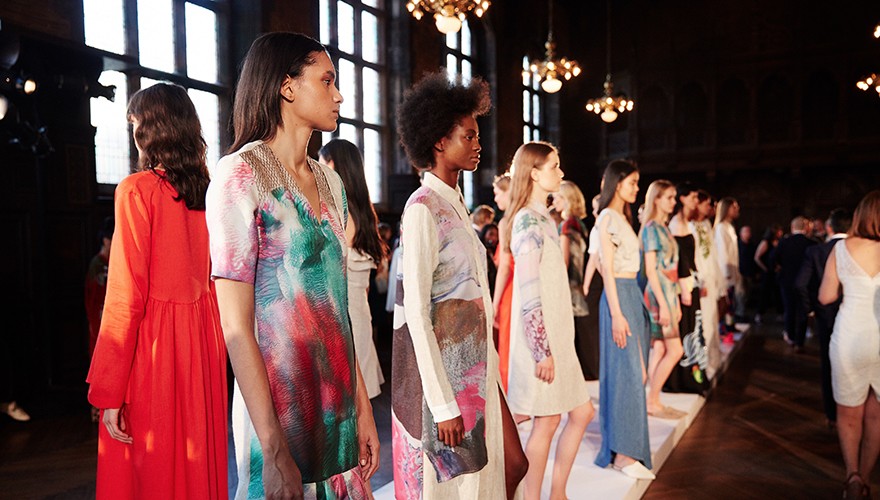 Angelys Balek Newest Collection "Full Moon"
On September 11 2016, Angelys Balek is pleased to launch the newest Collection for Angelys Balek Spring / Summer 2017 Presentation "Full Moon" with the brand's first ever New York Fashion Week presentation, produced in collaboration with IVY, the national organization bringing together next generation leaders from all industries. Inspired by the designer's travels to the breathtaking beaches of Phuket in Thailand and the popular Full Moon parties that take place there each month, the latest offering features an effortless blend of vivid colors, fluid shapes and supple textures reminiscent of the carefree spirit of these beachside locales.
Moved by the serene nature of the sandy beaches, the ruffles of the waves, and the sunny blue skies of southern Thailand, the natural elements translate effortlessly into the color, material and shape choices for the season. Asymmetrical flowing hems atop airy silk and crisp linen garments are reminiscent of the flow of water, while more raw natural woven cotton blends in an array of creams call to mind the grainy texture of the sand that envelopes the limbs that it touches. Meanwhile, statement pieces like the Gwyneth gown call to mind the sea creatures, like jellyfish and octopus, which dwell beneath the water's surface. Gold mesh trims were chosen to simulate fishnets and sparkles of the moon on the water, while other details like unusual seams, geometric pleats and angled hems result in a more modern approach to daytime and evening wear.
The most diverse offering from the brand to date, the Spring/ Summer 2017 collection by Angelys Balek features a larger array of knits, leather outerwear and even embroidery to balance the brand's feminine yet bold prints. The collection also introduces denim for the first time alongside effortless jersey for a more casual appeal.